108 Ardleigh Green Road,
Hornchurch,
Essex,
RM11 2SH
Cafe 108 is a highly-rated cafe in Hornchurch, offering breakfast, lunch, roast dinners, coffee and more. We opened our doors to the public in 2016 and have been serving delicious food and drinks ever since. Our friendly staff are passionate about good food and outstanding service, and we're dedicated to providing both. Whether you're looking for a quick bite or a leisurely meal, Cafe 108 is perfect for all occasions. Come and visit us today!
GTA- TRYHxRD
3 November 2023
Let me charge my phone and was rly nice to me
Darren Burns
30 October 2023
Went here on a Sunday for a amazing home cooked roast, defiantly recommend!!! All the food coming out the kitchen looked sooo good.
Kevin Brewer
28 October 2023
Very smart and comfortable cafe, super friendly staff and delicious food cooked to perfection, highly recommended excellent value for money.
Ali ince
21 September 2023
my waitress grace was absolutely amazing, so welcoming and lovely, great customer service! 10/10 experience
REBECA LUCA
16 September 2023
Lovely staff and amazing breakfast foods
Lovely breakfast, although they didn't give us the toast that was 'included', fast service and friendly, didnt have to wait long at all, the place is great after its recent refit, lovely and clean.
Claire Jasmine Jules-Saffu
4 September 2023
Edit: 04/09 this officially the best place to eat the most authentic sausages with your fry up. Amazing 👌🏽The food here is great, the service is fantastic. Staff can't do enough for you and always with a smile on their faces. Very experienced and willing to go above and beyond. Ed runs a great cafe and the recent addition of the dinosaur is one I'm here for, my son loves it! Will be back again and again ❤️😍
Discover the latest news and events happening at Cafe 108!
Good news! Cafe 108's much-loved roast dinners are back on the menu. Every Sunday, we're serving up our delicious roasts that are sure to hit
Read More »
We will be closing the cafe for refurbishment from August 3rd to August 20th. We apologise for any inconvenience this may cause and can't wait
Read More »
If you are looking for a sweet treat to make your Easter special, come over to Cafe 108 this Easter Sunday! We're offering free ice
Read More »
We Sell Alcohol Everyday
From 11:30AM
With a wide selection of beers, wines and spirits, our customers can pair the perfect drink to go along with whatever meal you are enjoying.
Grab A Cafe 108 Loyalty Card
At Cafe 108, we offer a fantastic loyalty cards for coffee and milkshake lovers. You can enjoy your 11th coffee or milkshake for free after purchasing 10 drinks. So next time you visit Cafe 108, be sure to grab a loyalty card and start earning your way to a free drink!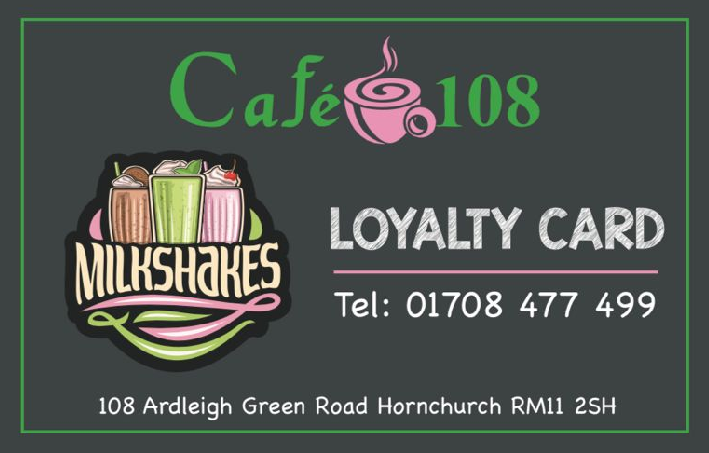 Order minimum £9.00 | Within a 1.5 mile radius | £2.50 Delivery